The éclair is a long, finger-shaped pastry made of pâte à choux,filled with cream or custard, and topped with a glacé icing. It originated in France around the 19th century.
Éclair is the French word for lightning. Food historians believe that the pastry received its name because it glistens when coated with glaze.
Let's make these delicious treats.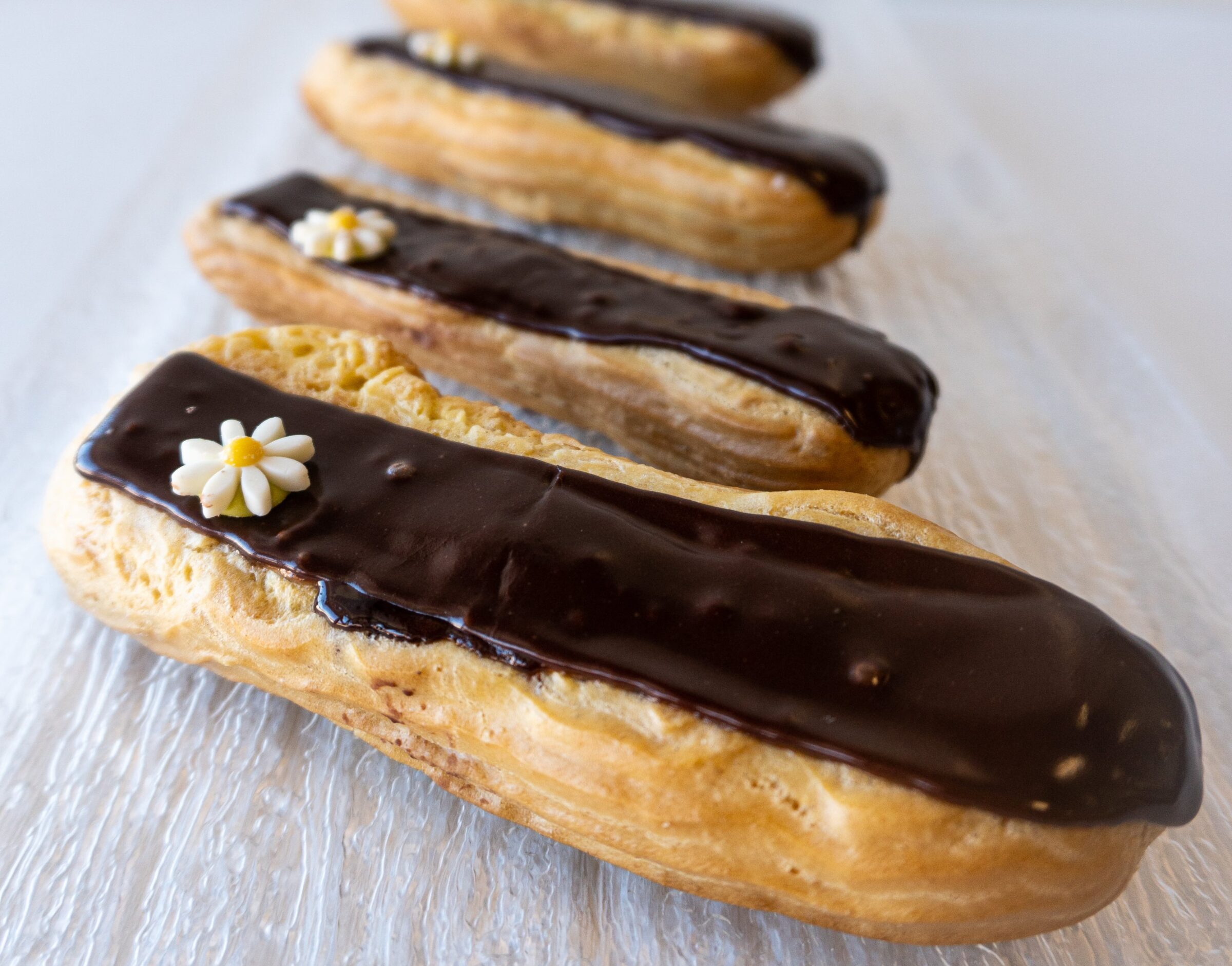 Pâte à choux (Puff Pastry)
Pâte à choux ingredients:
Water – 500g (2 cups)
Sugar (optional) – 10g (2 tsp)
Salt – 5g (1 tsp)
Butter – 200g (1 cup)
Flour – 300g (2 cups)
Egg – 500g (about 10 eggs)
You will find the Pâte à choux recipe here  
To create the éclair shape, layer straight lines of pastry, about 1 inch wide by 6 inches long.
Crème Pâtissiere (Pastry Cream)
Cream Pastry Ingredients
Milk – 500g
Sugar – 125g
Cornstarch – 50g
Eggs – 100g (about 2 eggs)
Vanilla Bean – 1/2 pod (to taste)
You will find the Cream Pastry recipe here. 
To create a chocolate cream pastry, add 10% of the cream pastry's weight in cocoa powder. 
Once you have made the éclair puff pastry you will have to fill in the puff pastry with the delicious chocolate pastry cream you just made. Do this once the éclair puff pastry gets cold. 

Using the tip of a sharpener or socket, pierce both sides of each éclair puff pastry. Put your chocolate pastry cream in a pastry bag and place the end of the nozzle in the holes you have just drilled. Gently squeeze the pocket to fill the chocolate éclair. If too much chocolate comes out of the éclair, remove the excess. 
Be careful not to press too hard on the pastry bag. Otherwise, the choux pastry could tear. 
Once all the éclairs are filled, place them in the fridge. 
Ingredients for the icing 
100g of pastry chocolate 
50 g icing sugar 
30g butter 
2 tablespoons of water (optional) – 
Melt the chocolate with the water over low heat (to prevent it from burning) – Add the butter and mix with a spatula until it is incorporated and the mixture becomes smooth. – Add the icing sugar and continue to mix quickly enough that a homogeneous and smooth preparation is obtained. 
You can also buy the chocolate icing directly from us. Just make sure you ask us a couple of days in advance. 
Take the éclairs in your hand and dip the top of each one into the chocolate glaze. 
Iron over with a spatula to remove excess and prevent the icing from getting too thick. Repeat this operation on all the éclairs. 
Put them in the fridge and voilà!